KITKAT SIGNS OFF MULTI-YEAR PARTNERSHIP WITH THE LEC, EU MASTERS AND BECOMES PARTNER OF THE LCL AND 12 EUROPEAN REGIONAL LEAGUES 
International sports business agency SPORTFIVE brokered the partnership between KitKat and Riot Games. build a rocket is the gaming & esports activation agency of choice. 
Following the successful collaboration, KitKat extends its partnership with the LEC & European Masters and announces its long-term Esports commitment. The iconic chocolate brand company becomes the official partner of the LEC and EU Masters, Europe's largest League of Legends competitions. Furthermore, KitKat partners up with the LCL and 12 League of Legends European Regional Leagues. 
KitKat continues to focus its attention on the Esports and Gaming market. Starting in 2020, SPORTFIVE facilitated the successful partnership between the chocolate company and Riot Games-operated League of Legends tournaments LEC Spring and Summer Split. The activations were carried out underneath the campaign slogan "Even the biggest Champ needs a Break" as well as accompanying commercials, content pieces and memes, uniting all of KitKat's gaming and Esports activations. As part of the ongoing partnership, a dedicated gaming channel was subsequently launched on Twitter with digital incentives being raffled to fans. In 2021, KitKat has become the main partner of the LEC and communicates its extensive Esports commitment through the "Mission Control" campaign, telling an extended story around gaming breaks that every gamer can relate to. 
The main goal of the long-term partnership with the LEC, EU Masters, the LCL and 12 European Regional Leagues is still to address and interact with the growing Esports audience in Europe by adding authentic value to the community. In the supporting commercial, KitKat presents itself to the target group in its usual humorous fashion and, true to the motto "Even the biggest Champ needs a Break," manages to breathe positive emotions into the technical breaks during league matches, which are often perceived as negative. KitKat changed the perspective of these breaks and makes them more valuable for fans, using them for fan engagement activations, raffling prizes and creating entertaining moments during breaks between matches on social platforms. The multi-faceted partnership between KitKat and Riot Games was brokered by international sports business agency SPORTFIVE and is activated by build a rocket. Esports consulting agency build a rocket became part of SPORTFIVE earlier this year, enabling the sports rights marketer to position itself in the market with a leading global Esports unit. Since this merger, the holistic consulting and pan-European activation for KitKat lies within build a rocket.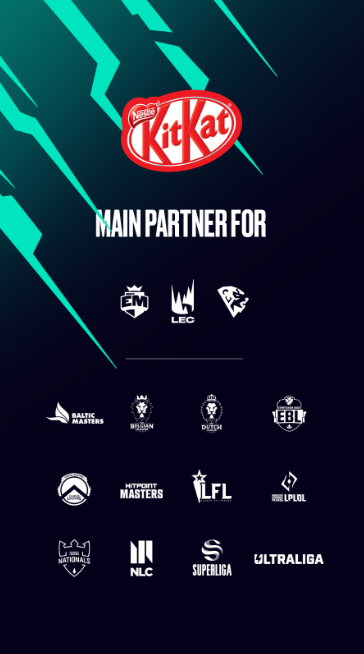 "We are very proud to have developed the collaboration between KitKat and Riot into one of the most significant non-endemic partnerships in Esports. Together with SPORTFIVE, we look forward to shaping, implementing and supporting this partnership in all aspects." 
Alexander Albrecht, Managing Director at build a rocket. 
"It's a pleasure to be working with a team that is truly passionate about Esports. KitKat pursues a clear Esports strategy in which the community is approached in a media-appropriate and authentic style on all relevant channels. The potential for non-endemic brands across Esports and gaming is diverse and still largely untapped. We are very happy to bring the successful partnership with Riot Games to a new level through the expert support of SPORTFIVE and build a rocket." 
Georg Fischer, Marketing Manager KitKat - Europe, Middle East, North Africa. 
"After opening the door for KitKat into the LEC and the fascinating world of Gaming and Esports in 2020, we are proud to now collectively drive this partnership between KitKat and Riot even further. KitKat's commitment to an overall yet targeted presence in the League of Legends cosmos is a powerful affirmation of the value and unlimited potential of this partnership." 
Eike Gyllensvärd, Executive Vice President Global Esports Partnerships SPORTFIVE. 
"We are thrilled to extend our partnership with KitKat for LEC and welcome them on board to European Masters as one of our main partners through a multi-year deal," says Zeynep Gencaga, Senior Business Development Manager Riot Games for Esports EMEA. "After a creative entry into the scene through a pilot by supporting the LEC breaks, KitKat is now becoming one of the most important partners of esports in Europe. Following the extension of the partnership to European language broadcasts, this Summer Split will showcase the partnership across 12 ERLs. It is a pleasure to be working with the team over at KitKat committed to creating meaningful moments and engaging content for our fans."